Many guidebooks, most maps, and the entire www.TrailMeisterwebsite are devoted to a series of squiggly lines. We study those streaks of ink, dream of being on them, and spend an inordinate amount of money to get to and follow them. Those of us that enjoy a life spent out of doors, and especially trail riders, spend a large amount of time on trails. But have we stopped for a moment to appreciate the trail workers who create and maintain the trails beneath us?
I'm not sure how many trail miles I've covered over the years. Between day rides,  frequent pack trips into wilderness areas, and even a few backpacking excursions over the past decades, I'd venture that the number foots well into the thousands, perhaps even into five digit territory.
Generally those miles have been made with little thought to the origins of the trails. Instead I often think about the upcoming views, the quality of the fishing, and where the next place to water the mules lies in the distance ahead. Despite the time I spend on the trail I rarely consider the hard work and efforts that go into creating the paths that grant us access into these hallowed places. Aren't trails meant to be unnoticed?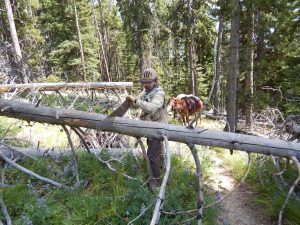 If you believe that your land managers (or trail fairies, take your pick) are able to maintain trails I can tell you about a Gilligan's Island trip into the Pasayten Wilderness where a 3 hour ride became an 8 hour ordeal of trail clearing.
This past summer I had the opportunity to join groups of concerned riders for work projects across the Pacific Northwest.  People from hundreds of miles away loaded their trucks and trailers to join together to clear trail, rebuild equestrian camps, and reconstruct bridges in the Wilderness, with members of Back Country Horsemen of America.  READ MORE
Wilderness Work Party Video – Wilderness Work party in the Pasayten Wilderness of Washington with the Back Country Horsemen.